.
NOTE:

I no longer have most of the stuff you see in this site, as I have sold everything. Why? Cos I've moved on to other things in life.

For those with many questions about Star Wars items, I have been out of the scene for a long long time already, so best to ask the experts at the Replica Props Forum (RPF).

And if you're looking to buy lightsabers, start with eBay and Master Replicas.

Spb
Welcome!! You are about to take a guided tour to my study room, which is the home to my movie memorabilia collection! Previously, before I moved into this new place, my collection was all over my living room, but now that I have my own study room, Wifey has decreed that all my "junk" is to be confined within the study room. So let's go! :)
This is what you would see when you open the door into the living quarters. Sorry, no prizes for guessing which one is my room. ;) And yes, I always leave my door open (and even if you close it, you'd still be able to see through the glass in the middle of the door). <<evil laugh>> :D



Welcome to my study room!! Make yourself at home, take a look around, just don't break anything!! :D
Most of my collection is from the original Star Wars trilogy (the movies I grew up with as a child), the Star Wars prequels, as well as some of my other favourite movies like The Matrix, Back To The Future, T2, and Predator.
Before anything else, a brief word about my collection philosophy:
I'm very much into accuracy and/or quality, which is why you don't see many of the popular toys in my collection (like the Kenner and Hasbro 12" action figures, or the earlier version 4" ones where everyone has a body like Arnie's, as most (though not all) of them are plainly inaccurate and (to me) not a quality I'm happy enough with to make part of my permanent collection. Space is very limited, so I have no choice but to be very discriminating! :)
You might also notice that I prefer collecting baddies. This is because (1) baddies are much more cool-looking, and (2) most of the 'good guys' are humans, and human faces are very difficult to reproduce accurately (see above regarding my fixation for accuracy). This is why I don't have things like a Luke Skywalker figure. I have a couple of Han Solo's though (who's a good guy and shows his face), but then, in one he's sitting on a very cool and pretty-accurate Tauntaun, and also his face is pretty much covered up! :) The other Han I have is the Attakus carbonite one, which is very accurate, and also very cool-looking!).
Anyway, on with the tour. This is like a panoramic view of my study room. Immediately in front of you: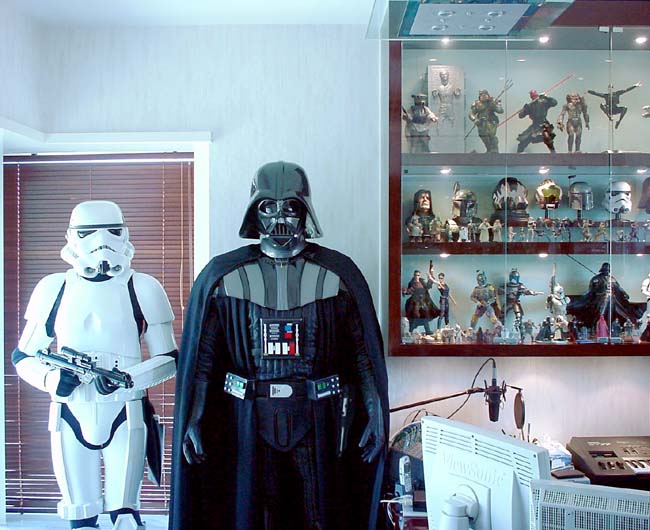 Turning to your right slightly: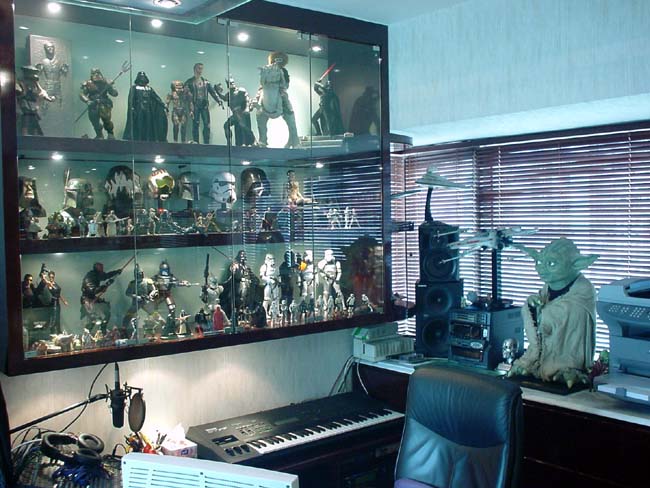 A bit more to your right:
And finally, a view of the front of the room: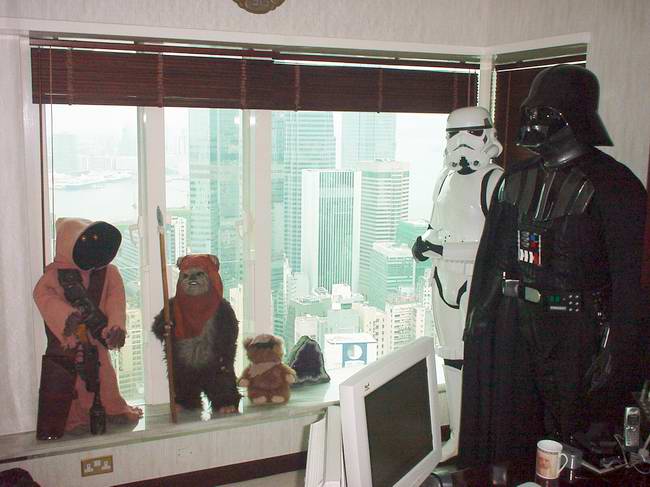 For a more detailed tour, my study room/collection can be divided into four sections:
| | |
| --- | --- |
| Hanging Cabinet | Wall Cabinet |
| | |
| | |
| Back Section | Lifesize Collection |
| | . |
| | |
And here you can have a special detailed tour of my lightsabers.